I would like to announce with great pleasure that
Arbit Choudhury
has been awarded the prestigious
Manthan Award
under the e-Entertainment category, for its contribution to developing the concept of micro-distribution. The Manthan Award is an initiative by Digital Empowerment Foundation , India as the National initiative of World Summit Award, to select and promote the best practices in e-Content and Creativity in India.
As the Award Jury put it – "Comic characters and ICT [Information Communication Technologies] offer immense possibilities for communicating serious thoughts quickly and to a large audience and in an interactive mode. [Others] could adopt Arbit's strategy of micro-distribution over a large geographical area to reach the target audience."
You can read more about Arbit Choudhury's contribution on the Manthan Award website
here
The list of all winners of the Manthan Award can be found
here
We would wish to thank all our fans for their support which has kept us going and has brought us to this day when Arbit has been recognized as a concept with an impact farther than Management and B-schools.
Sabyasachi Ghosh, a close friend of mine, who was present in New Delhi, accepted the Manthan Award on our behalf.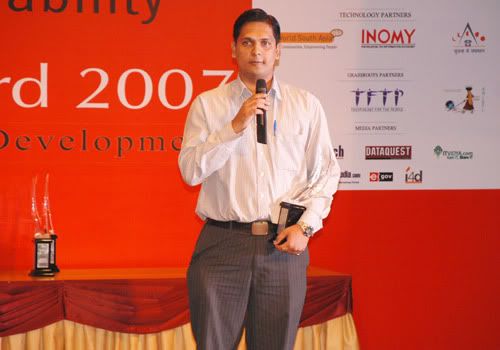 Do send your messages in relation to the award along with feedback, suggestions and Arbit ideas to
arbit.mba@gmail.com
You can also join the Arbit Choudhury Mailing List by visiting
this
link, and clicking on the "Join This Group" button, or writing a mail to
arbit.mba@gmail.com
with the subject "Join".