September 2005 has been a month of Arbit milestones. To start things off, on the 5th of this month, Arbit Choudhury- World's 1st MBA cartoon character celebrated his 1st birthday. Then Arbit transcended from the web world to the SMS domain, with the launch of Arbit SMS Jokes. Arbit Choudhury also appeared in Business World magazine, dated 3rd October 2005 (the online version of the same can be visited at
www.businessworldindia.com
)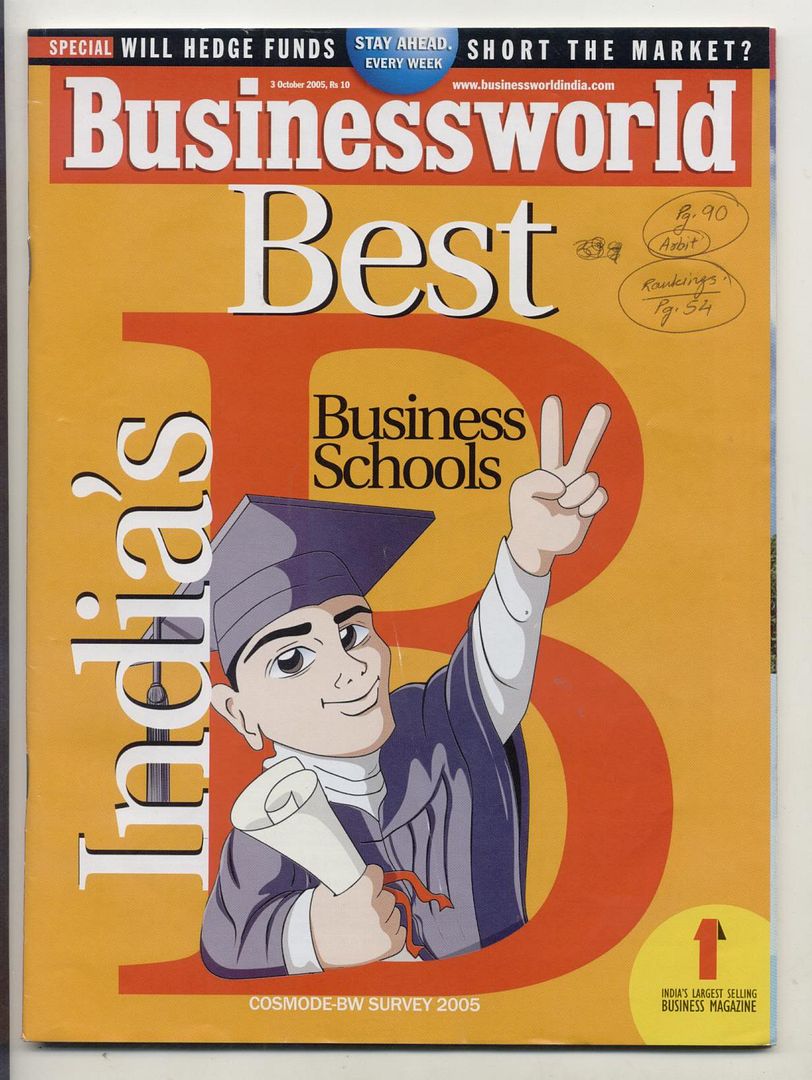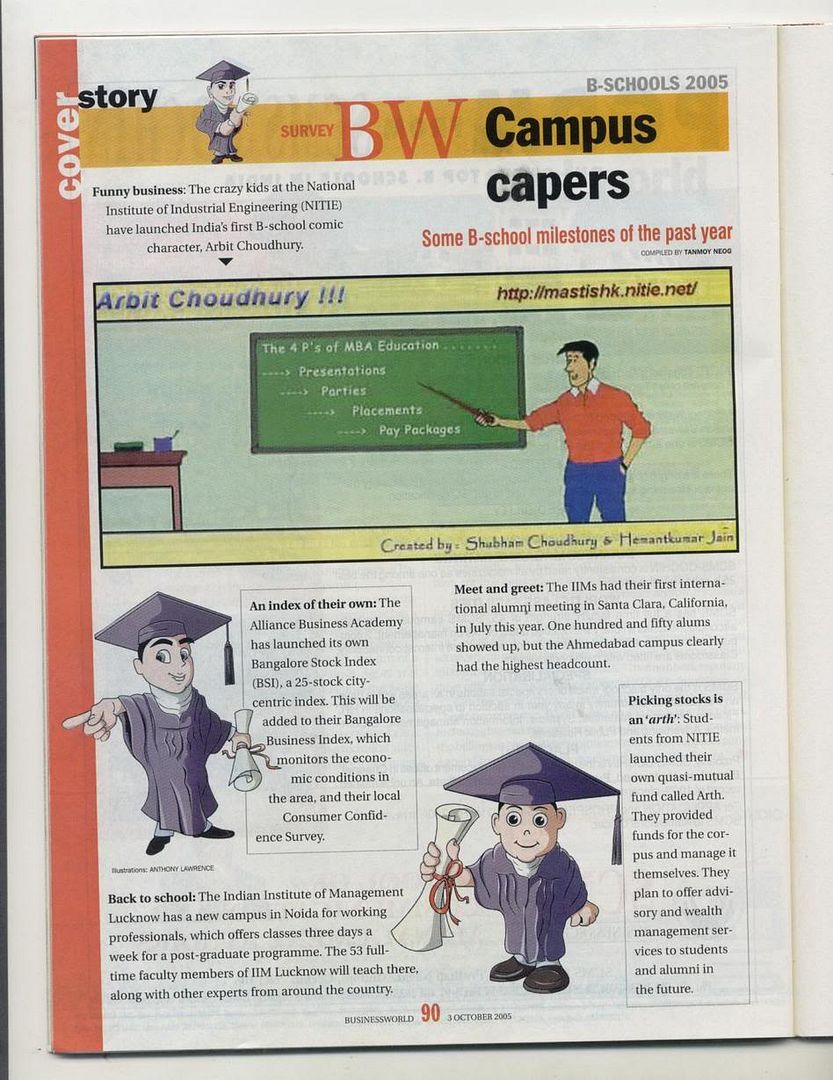 And to round things off, I just noticed, the
Arbit Choudhury yahoo group
, through which the latest editions of Arbit Choudhury comic strips are released twice a month, has become the 10th largest comic strip yahoo group, with 895 members (and counting). This is quite an achievement for a 10 month old group.
On this happy occasion, I would like to thank all Arbit Choudhury fans for their continuous love and appreciation. The truckloads of e-mails which have kept flooding our mailboxes over the last year, have given me and Hemant the inspiration to continue creating Arbit.
Thank you all!!!!
On Arbit Choudhury's 1st birthday, I hereby release the Character sketches of all other characters in the Arbit world.

Lots more Arbit stuff, including latest Arbit wallpapers and Avatars, can be downloaded from Arbit's own website-
www.arbitmba.com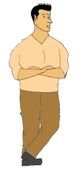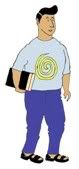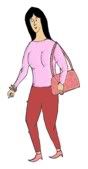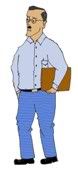 Techie Bill- The Geek
He is one of Arbit's closest friends. Bill and Arbit used to be roomies in engineering college. Bill had the most brilliant techie brain in campus. No one could match his programming skills, or his knowledge about IT. But somehow, his knowledge never converted into grades. But he was selected by the first IT company to visit campus. And has changed 3 jobs in the last one and half years.
As luck would have it, Bill and Arbit are in the same city now too. They often meet and discuss their apparently divergent worlds. While Bill talks about implementation, delivery and deadlines, Arbit is all strategy, vision, mission. And at the end of the day, both go back thinking that the grass is greener on the other side.
Antique Jain- The Topper
He is the undisputed topper in the batch. He has all it takes to be a topper. Intelligence, discipline, hard work, good PR with profs., he has it all. He is the kind of guy who could rattle off entire chapters of Kotler, have the quarterly profits of all fortune 500 companies at the tip of his tongue, and recognize faces of all CEO's worth their salt. His dream company- McKinsey. Although there is not much common between Antique and Arbit, they are good friends. While Antique believes in burning the midnight oil, Arbit believes in taking the easy way out, while Antique bases his results on painstaking analysis, Arbit just cooks up data to fit the results he wants. But as they say, opposites attract. Antique often approaches Arbit to get his nagging queries answered, and is more often then not bewildered at the sheer nonchalance with which Arbit cooks up the most outrageous of answers.
Maya- The Girlfriend
Maya and Arbit were batchmates in engineering college. Although Arbit was deeply attracted towards her from day 1, he could never muster enough courage to say those 3 big words to her. As the days and months passed, Maya began to understand Arbit better, and one day proposed to him herself. And they have been together ever since.
Maya is a simple girl, who likes simplicity in every aspect of life. She is often as a loss to understand all the management jargon spewed by Arbit every now and then. She sometimes feels, MBA has made Arbit go further away from reality, into a world where vision, mission are more important than implementation, where plans are more important than execution, where jargon is more important than action. She tries her best to keep Arbit's feet on the ground, and is the stabilizing force in his life.
Prof. Lingampally Rangareddy- The Task Master
He is the toughest Prof. in campus. A strict no nonsense guy. He specializes in all quantitative analysis tools ever invented. Factor analysis, cluster analysis, QFD, AHP, Test of Hypothesis, 6-Sigma, there is nothing he is not an expert at. Even worse, he expects everyone to use these tools to solve every management problem. As a typical wisecrack doing the rounds in campus goes- Before his marriage, he carefully analyzed the compatibility between him and his prospective wife, not through horoscope, but through QFD!!!
As expected, Arbit is not his favourite student. Arbit stands for everything Prof. Rangareddy dislikes. "All fart, No Gyan"- is Arbit's way, which is diametrically opposite to the Prof.'s ideology of "All analysis, no fart". Their exchanges in class are stuff folk laws are made of.....
Now for some funny business.. Out of the hundreds and hundreds of Arbit fan mails we have received, only a handful of people have actually got the spelling of "Choudhury" right.. After reading all those mails, I have realized the many different combinations by which one can write the surname Choudhury.
Here is a list of ways in which people have spelt it.
Arbit Choudhary
Arbit Chaudhary
Arbit Chowdhary
Arbit Chowdhury
Arbit Choudhry
Arbit Chaudhry
Arbit Choudhuri
Arbit Choudhari
Arbit Choudhri
Arbit Chaudhri
Arbit Chowdhuri
Arbit Chowdhari
Arbit Chowdhri
Arbit Chawdhri
Arbit Chowdry
Phew!! I had read that Shakespeare could write a dozen different spelling of his name.. I guess the same applies to Arbit too.. :)
"Creativity is allowing oneself to make mistakes. Art is knowing which ones to keep." - Scott Adams