Though
Arbit Choudhury
is all about humor, we do like to utilize Arbit's popularity do your little bit for important social causes. From time to time, we extend our whole hearted support to various social projects and awareness campaigns.
Project WHY !
ProjectWHY
is an organization aiming to provide under privileged children a means to learn, earn and live with dignity. The Project WHY resource center is located in the Giri Nagar slum in New Delhi. There are currently 600 children enrolled at WHY. Children at WHY are enrolled in local government or municipal schools.
We have released a special comic strip related support one of the initiatives taken by ProjectWHY
The entire Arbit Team (Arbit, his friends and his Creators) extend a helping hand to the under-privileged children by announcing their support to Project WHY. We would appreciate all the Arbit fans who would come forward and help such initiatives.
Project WHY Coordinators:
Mrs.Anuradha Bakshi (Contact No. +91 98 1142 4877)
Ms. Shamika Bakshi(Contact No. +91 98 1111 3420)
AIDS Awareness
The Arbit Choudhury Team is also a keen supporter of the AIDS awareness campaign. On World AIDS Day every year, we release a special comic strip dedicated to spreading awareness about AIDS.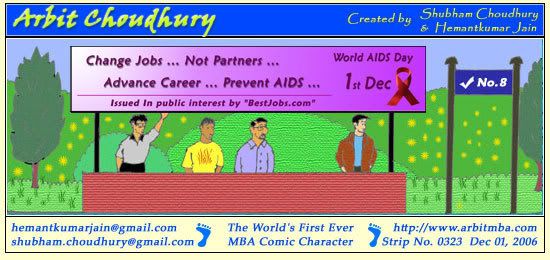 If you think Arbit can help some other Social Responsibility Projects, we would like to hear from you about them. Write to us at
arbit.mba@gmail.com